Private Day trip phuket
Get away from the crowds and rent your own sailing yacht or speedboat / power catamaran

Special Promotional Prices for Renting a Sailing Catamaran in Phuket
for a Private Day Cruise. Click here for a PDF with detailed prices
Rent Sailing Catamaran Lagoon 440 for Phuket Private Day Trip
Starting from THB 15'500 for Half Day Trip
THB 22'500 for full day / up to 10 guests
Rate for the boat / Private Trip / Cruise
For detailed prices click here
Private Phuket Day Cruise with Sailing Catamaran Ella
Starting from THB 11'000 for Half Day Trip
THB 16'500 for full day / up to 10 guests
Rate for the boat / Private Trip / Cruise
For detailed prices click here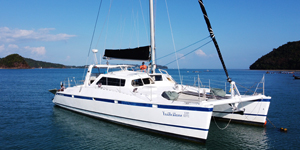 Sailing Yacht Bohemian
Private Tour Phuket
Starting from THB 11'000 for Half Day Trip
THB 16'000 for full day / up to 10 guests
Rate for the boat / Private Trip / Cruise
For detailed prices click here
Phuket Boatcharter offers a large variety of Sailing Yachts and Speedboat / Power Catamaran for a private Day Trip Charter.
Rent your own boat for a great day out to discover the Islands around Phuket Thailand.
Yachts all sizes for groups from 2 to 60 guests
The Private Sailing Yachts usually cruise to Ko Mai Ton, Coral Island or Racha Yai Island. It depends on the wind and weather.
With your own hired Speedboat or Power Catamaran you can disover Phang Nga Bay National Park, Phi Phi, Mai Ton or further destinations like Krabi.
Unique for Phuket Day Trip: they come with many waters toys, like floating jacuzzi, water slide, flosting sofa etc.
Rent your own private boat for a very Special Day Tour in Phuket.