Celebrate Special Occasion on a Daytrip in Phuket
Wedding, Birthday, Stag-, Hens- and Bachelor Parties
You have a special occasion to celebrate in Phuket?
Rent a private yacht and you will have a unforgetable day on one of our boats in Phuket. The advantage of your Own Chartered Boat is obvious:
- Complete privacy. The Yacht just belongs to you, your friends and / or your family
- You will be celebrating in a Real Tropical Environment. Not in restaurant or ball room - this you can have back home
- The atmosphere is casual and our crew will take care just of your group and its needs, special attention to all details is guaranteed
- The cuisine onboard is fresh and fantastic
- You can bring your own alcohlic beverages at no corkage fee
- Speaking about it: we can organize the transfer to / from the marina for you. With the Power Boats, this is even included in the price
- Onboard your Private Yacht / Boat you can just relax, sip your drinks, listen to your own music. After reaching a destination you always can go for a swim or have fun going snorkeling. The larger boats provide kayaks. The Power Catamaran have many other Water Toys like Floating Jacuzzi or even a Water Slide
We offer Private Yachts in Phuket for groups from 2 to 60 guests and are very experienced organizing your Special Day for you.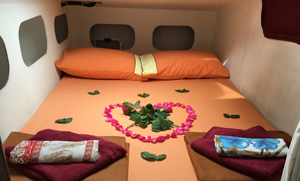 Proposal or Honeymoon Holiday Trips Phuket
Quite often we organize special trips for the Love Birds. This can be a Proposal Trip in perfect privacy or a longer Honeymoon Holiday. Either for Private Day or longer Overnight Trips in Phuket.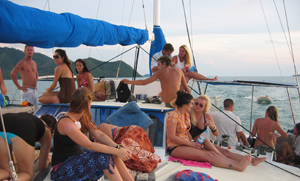 Wedding, Birthday, Stag-, Bachelorette Parties Phuket
Rent your Private Boat in Phuket for a Party and a Very Memorable Day Trip. It is definately more fun being in fresh air, seing the beautiful environment of Phuket Islands and always be ready to cool down in the water for a swim. The atmosphere is relaxed and exciting at the same time.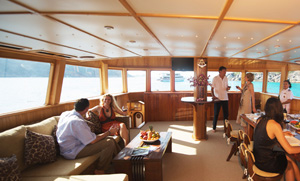 Corporate Events / Incentives on your Private Yacht in Phuket
Chartering your Own Private Boat for a Corporate Event / Incentive is definetly an ice breaker. The ublocked views onboard your own Yacht in Phuket and the casual dress code do magic to you and your colleagues. Team Building at its best.