Private Sailing Yacht Trip to Ko Muk - The Emerald Cave
Ko Muk - Emerald Cave - Ko Kradan - Thailand
Ko Muk - Southern Thailand
is famous for its inland lagoon known locally as "The Emerald Cave". Swim or kayak through a cave and find a beautiful lagoon with a beach and high walled lime stone formations. Koh Muk is one big attraction on the Southern route and one of the highlights.
Ko Kradan - Southern Thailand
offers a perfect and beautiful night anchorage. There are some bungalow resorts with restaurants, where you could enjoy a snack and drink ashore.
Kayak into Emerald Cave Ko Muk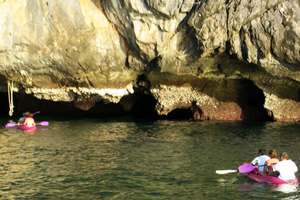 A thrilling experience is to take your Kayak into the Emerald Cave in Ko Muk