discover PHang Nga Bay - James Bond - with
your private speedboat or Sailing Yacht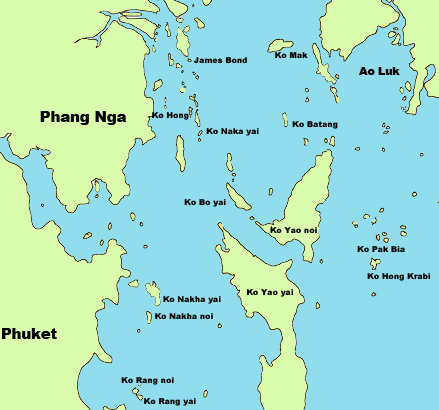 Private Sailing Yacht or Speedboat Power Catamaran Trip Phang Nga Bay
Phang Nga Bay National Park Thailand
is a shallow bay with 42 islands and provides breathtaking – fairy tale like – scenery. When 1974 James Bond "met The Man With the Golden Gun" on Ko Tapu, the limestone formations became famous worldwide. Some of them rise up as high as 350 meters.
You can either visit Phang Nga Bay on a private daytrip with a speedboat or a Power Catamaran.
We love sailing overnight charters in those calm waters with its fantastic scenery, but try to stay away from James Bond Island, since unfortunately it is overrun by tourists. There are much more similar islands in Phang Nga Bay with much less "traffic". It is great place to explore with kayaks. There are many caves to explore. On some islands you will find hongs (Thai language for room). A Hong is a large space inside, such an island with a chimney - like opening to the sky.
The area is teaming with wildlife. You have chances to see large lizards and monkeys and a large variety of birdlife.
Since it is a National Park, you will find many uninhabited island for a peaceful anchorage at night.
Private Orvernight Sailing Charter Phang Nga Bay
Sail to Krabi - Ao Nang and Railay Beach Thailand from Phuket with your Private Sailing Charter Yacht
Phang Nga - James Bond Island by Private Speedboat or Power Catamaran
Phang Nga Bay and James Bond Island - Thailand - is for many visitors to Phuket a "must see destination". Get away from the crowds and charter your private speedboat / power catamataran to visit this beautiful area on a daytrip.